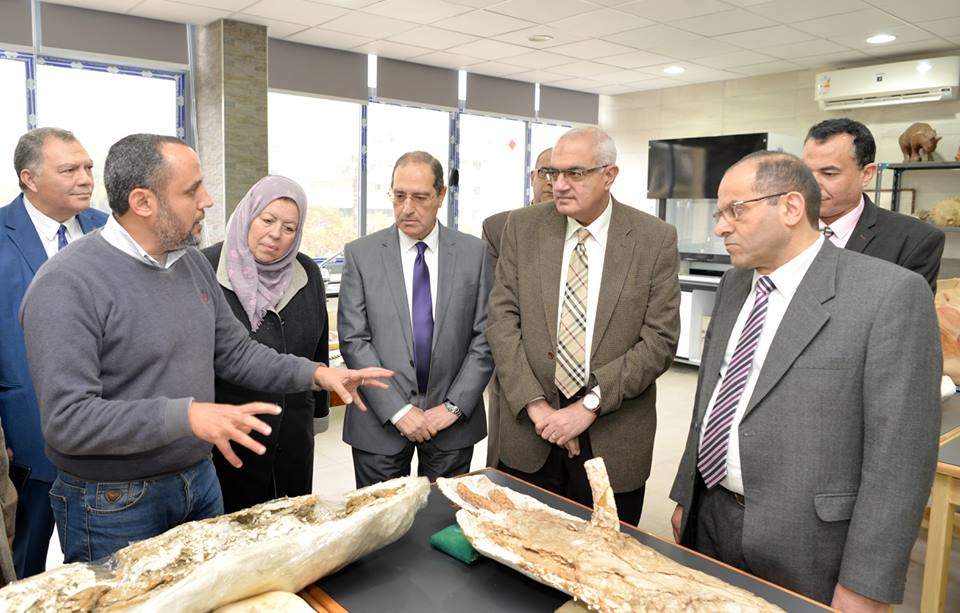 Prof. Ashraf Abdel Basset, President of Mansoura University and Prof. Ashraf Mohammed Sweilem, Vice President for Post-graduate Studies and Research checked on Tuesday, 5 March 2019 the final preparations for the Center of Vertebrate Paleontology at Faculty of Science which will be opened by the end of March.
In the presence, Prof. Adel Al-Junaidi, Dean of the College, Prof. Azza Ismail, former Dean of the College, Prof. Ahmed Al-Mahmoudi, Head of Geology Department, Dr. Osama Al-Ayyan, Vice Dean for Post-graduate Studies, Prof. Hosny Ghazala, Prof. Rizk Ibrahim, Vice Dean for Community Service and Environmental Development, Prof. Hisham Salam, Director of the Center for Vertebrate Paleontology.
The center includes vertebrate paleontology from geological ages dating back tens or even hundreds of millions of years. It is the only center in the Middle East and North Africa is interesting in studying the vertebrate paleontology and more than 20 international researches have been published in major international scientific journals...
jordan release date | adidas Yeezy Boost 350